7 Reasons To Book Early For In the Night Garden Live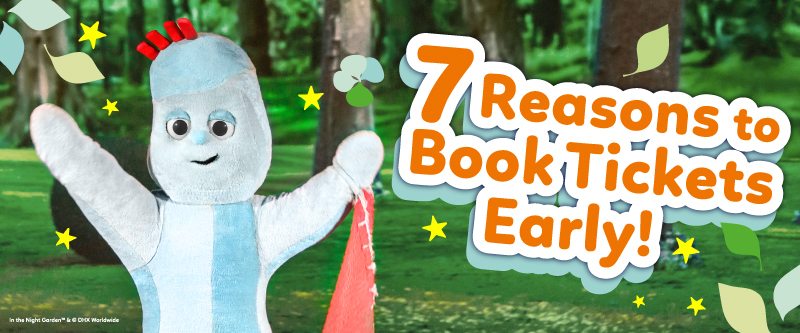 If you'd like to join Igglepiggle, Upsy Daisy, Makka Pakka and friends for their new show this year but haven't got round to booking your tickets yet, here are 7 reasons why you really should do it now!
It was brilliant! ★★★★

"I'll bet my last pound that Igglepiggle floating on his boat will bring a sentimental tear to your eye as you clutch your little ones and squeeze them tighter before they grow up."

- Cat from Manchester
1. Go now before your little one grows up!
So many parents tell us this is an amazing experience for you and your little one that you'll never forget! Little ones grow up so fast. Don't miss your chance to see the look on their face when they see their favourite characters brought to life!
Such a great show ★★★★★

"Take them before they outgrow it! Worth every penny… A lovely memory to cherish forever"

- Jodie from Milton Keynes 
Definitely take your little ones ★★★★★

"Definitely take your little ones before they grow up - so many memories were made ❤️"

- Jodie from Telford in Shropshire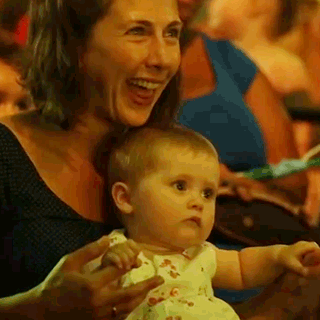 This link will take you to our official ticketing partner Family Tickets where you can choose your performance date and time, view the seating plan, and book your tickets online.
---
2. If you book early, you can choose the best seats! 
There are still seats available for almost every performance. But don't leave it too late – over 25,000 tickets have already been booked and some performances are very full. It's worth booking before the tour starts on Thu 27 Apr to make sure you get the best choice of dates, times and seats.
---
3. We're coming to 30 theatres - each for a few days only!
Don't miss it – we're coming to 30 theatres across the UK from Thu 27 Apr - Sun 10 Sep. There are only a few performances on sale at each theatre and we're visiting most venues for 2 days only. Enter your postcode here to find your nearest venue and book now before it's too late.
---
4. Our Money-Back Guarantee!
When you book your tickets you can have confidence with a money-back guarantee for your booking.
If you have coronavirus symptoms, have tested positive for coronavirus or need to self-isolate, you just need to let us know before the start time of your performance. We'll either help you exchange your tickets, offer you a Family Tickets Gift Card or refund your full order, including any booking fees.
In the event of a venue or specific performances being affected by coronavirus, we will follow Government advice. Our customer service team will get in touch with you ahead of the performance with an update about your booking.
Bookings must be cancelled or exchanged in full. We're unable to make changes to only some of the tickets in your order.
---
5. See Igglepiggle and the amazing flying Pinky Ponk at your local theatre!
Parents tell us when the Pinky Ponk flies over the audience it's one of the most "breath-taking" moments of watching the show. Watch the wonderful audience reaction in the video above or read more about it here.
The only way to see the amazing flying Pinky Ponk and Igglepiggle in his new show is to book tickets with our official ticketing partner Family Tickets before it's too late!
Whilst we make every endeavour for the Pinky Ponk to fly in every performance, the appearance of the flying Pinky Ponk cannot be guaranteed. This does not affect the performance.
---
6. Parents give In the Night Garden Live 5/5 stars ★★★★★
Now in its 14th year, In the Night Garden Live is one of the UK's favourite family events. Over 1 million people have seen it so far and it gets 4.8 out of 5 stars based on 13,770 parents' reviews.
---
7. Our friendly support team can help you book the best seats now!
We know you may have lots of questions about the show before you're ready to book tickets. Don't worry – our friendly support team is here to help you. We've already helped thousands of families like you book tickets early for In the Night Garden Live 2023.
Let us help you complete your booking now, before the show starts on Thu 27 April, to make sure you get the best choice of dates, times and seats.
We're here to help you plan an amazing and memorable day for your family. So please do get in touch with us now for a chat!
You can email helpdesk@nightgardenlive.com any time or call us on 0330 120 0123. We're available Mon - Sun 10am - 4pm.
Do it now while it's still fresh in your mind, before it's too late. No child is too young to see In the Night Garden Live on stage! Parents tell us that children as young as a few months old engage with the live show, and the looks on their faces are absolutely amazing.