In the Night Garden Live Hall Of Fame

What do Robbie Williams and Adele have in common?... They both love In the Night Garden Live!
Igglepiggle, Upsy Daisy and Makka Pakka are the main attraction at In the Night Garden Live, but they're not the only famous characters to be spotted inside the Showdome. We're delighted to have seen a huge number of celebrity mums, dads and grandparents enjoying In the Night Garden Live with their little ones.
Some have been VIP guests at celebrity gala events. Others have appeared unannounced, to enjoy In the Night Garden Live with their children along with all the other families! 
Our most famous visitors have included singers Adele and Robbie Williams. Both parents booked tickets to see the show at The O2 in 2014. It was fantastic to see these megastars enjoying a special family day out with us. Both parents were so down to earth and they clearly loved seeing their favourite characters as much as their children did!
Read our famous visitors' social media shout outs below: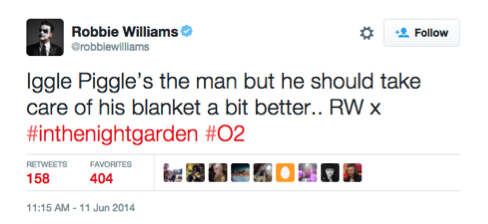 Robbie Williams tweets after seeing the Ninky Nonk show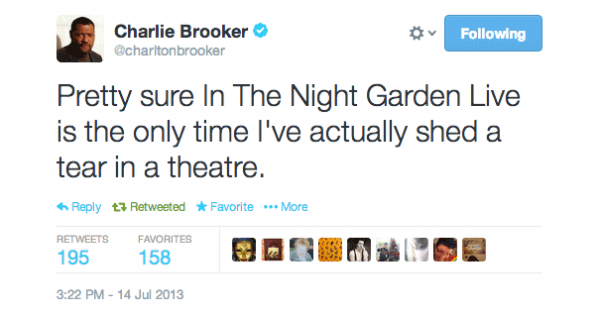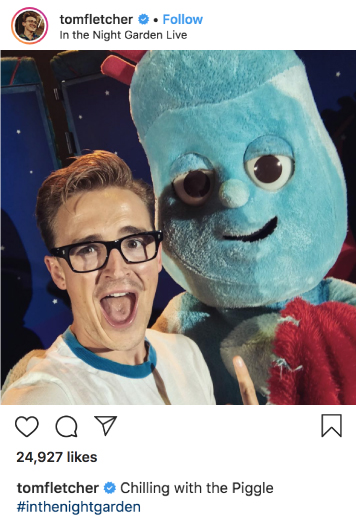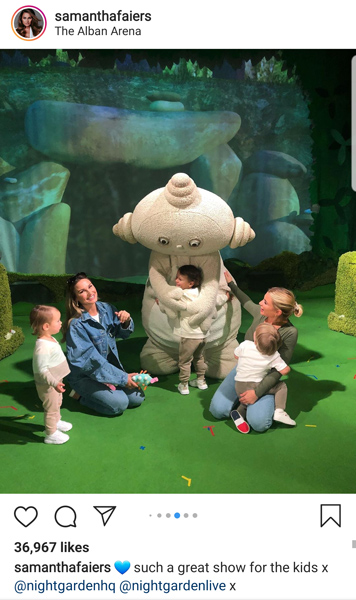 We hosted our first celebrity gala performance in 2010 to celebrate the grand opening of In the Night Garden Live. Amongst the famous faces enjoying the show were singer and actress Billie Piper with her son Winston. 
We also welcomed Martin Freeman, star of The Hobbit and Sherlock, along with his actress wife Amanda Abbington. Martin Freeman really got into the spirit of a family day out at In the Night Garden Live - here he is enjoying some colouring-in and meeting Upsy Daisy.
Martin Freeman colours in Igglepiggle and meets Upsy Daisy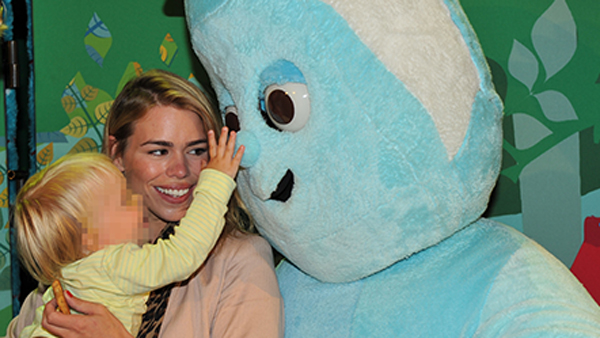 Billie Piper and her son Winston meet Igglepiggle 
During the last 10 years of touring In the Night Garden Live, we have welcomed a host of celebrities at the show, including singers, soap stars, models, journalists, sports people and TV presenters. 
S Club 7 singer Rachel Stevens and her family have enjoyed In the Night Garden Live so much that they have been to see the show three times! 
Our celebrity visitors have shared some great tweets too – see some of the best tweets and photos in the galleries below!

Liberty X's Tony Lundon tweeted: "Turned down every party invite for years, but not this one: I'm more excited than my son to meet Igglepiggle tomorrow!"
Satirical journalist Charlie Brooker said: "Pretty sure In The Night Garden Live is the only time I've actually shed a tear in a theatre."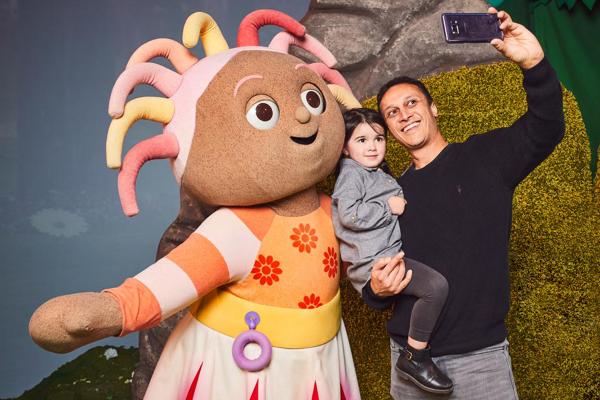 We even caught Emmerdale Actor, Chris Bisson and his little one taking a selfie with Upsy Daisy in our 2019 tour gala! 
What fun!
Have you sat next to a celebrity at In the Night Garden Live? What celebrity families would you like to see at the show? Tell us in the comments!
Adele - Singer
Robbie Williams - Singer
Rio Ferdinand - Football player
Billie Piper - Actress
Tom Fletcher - Musician and Author
Sam Faier- TV personality and model
Laurence Fox - Actor and musician
Danielle Brown - Actress
Donal MacIntyre - Journalist
Jake Wood - Actor
Jessica Hynes - Actress
Jo Joyner - Actress
John Simpson - Journalist
Laila Rouass - Actress
Martin Freeman - Actor
Amanda Abbington - Actress
Natalia Vodianova - Model
Samantha Morton - Actress
Shane Ritchie - Actor and presenter
Sharon Small - Actress
Toby Stephens - Actor
Denise van Outen - TV presenter and actress
Natasha Kaplinsky - TV newsreader and presenter
Jamie Theakston – TV and radio presenter
Claire Richards - Singer (Steps)
Nicky Grahame - Big Brother star
Mylene Klass - Singer and model
Harriet Scott - Radio presenter
Rachel Stevens - Singer (S Club 7)
Samantha Simmonds - TV newsreader
Sara Cox - Radio presenter
Scott Mills - Radio presenter
Janet Ellis - TV presenter and actress
Jay Simpson - Football player
Rani Price - Children's TV presenter
Michelle Heaton - Singer (Liberty X)
Amanda Holden - Actress and presenter
Imogen Thomas - Big Brother star
Jenni Falconer - TV and radio presenter
Kevin Pietersen - Cricket player
Gareth Gates - Singer
Charlie Brooker - TV journalist and presenter
Kirsty McCabe - Weather presenter
Danielle Lloyd - Model and TV presenter
Tony Lundon - Singer (Liberty X)
Ray Quinn - Actor and singer
Chris Bisson - Actor
Brooke Vincent - Actress
Sue Cleaver - Actress
Samia Ghadie - Actress
Joel Ross - Radio presenter
Dolly-Rose Campbell - Actress